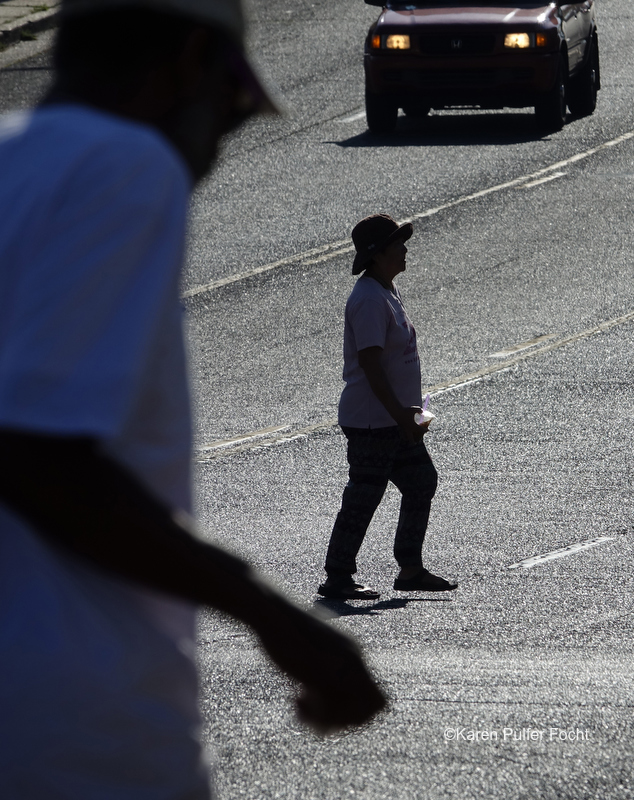 Grammy-Winner Kirk Whalum gives the homeless: A Short Cut To Dignity
Read More
"Sun Records overlooked giant"
BEHIND THE PICTURE:
KAREN PULFER FOCHT
Rockabilly artist Billy Lee Riley became a quick friend when I first arrived in Memphis. I shot his album cover, went to see him perform, and even had him to the house a few times. I loved to hear Billy tell his stories of those early Sun Record years.
When I met Billy, in the early 1990s, he was a house painter .
He grew up in Arkansas and was the son of a sharecropper. To me, he represents what I have seen over and over again in Memphis. He was one of the many pioneers of Rock and Roll that inspired the many artists who became the legends in rock and roll history. Yet, more often than not, I'd find those pioneers living out very humble existences.
His first big hit was "Flyin' Saucers Rock and Roll in 1956, the same year Elvis had risen to stardom. The next year he had another hit with "Red Hot," in which a Sun Studio "session musician" named Jerry Lee Lewis, played piano.
As "Red Hot" was rising up the charts, a song titled, Great Balls of Fire, by Jerry Lee, was released and it shot to the top. Sun Studio owner, Sam Phillips, put his efforts into promoting Jerry Lee Lewis.
Billy always felt a bit cheated out of stardom in the 50s. He really loved the idea of being a big star. He never forgot about performing. He never lost the desire to be a star.
There was someone else who had heard his early hits and was influenced by them. It was someone who never forgot about him and his contribution to the early years of Rock and Roll. That was Bob Dylan.
In the early 90s, Billy Lee told me many times that Bob Dylan often called him and that Dylan wanted to meet him someday.
One day Billy Lee called me and said that Dylan was coming to Little Rock and that he wanted Billy to come see his show. Billy said he'd like me to come too and take a few pictures for him. I was happy for the opportunity, although I felt it would probably be a long shot that we would be able to see Dylan.
As a photographer I open my talks with a slide that says "Imagine The Possibilities." That is how I have lived out my entire career, each day, each assignment, each idea that comes into my head. I imagine the possibilites in a given scenerio, that becomes the fuel for my journey. The best case scenrio is what I aspire to, it is the hope that I cling to. As documentary photographers, we never know what magic might unfold in the next moment. There is a certain thrill that comes with that.
When we got there Dylan immediately invited us onto his bus. I watched it first hand. Dylan was in awe of Billy Lee Riley. Dylan talked to him about being influenced by his music, listening to his music in his room as a kid. Dylan was so enthused, so eager to hear more. He asked Billy Lee over and over, show me how you did this and that. Dylan was thrilled to be meeting Billy Lee and honored that Billy was going to come see his show that night.
The ultimate scenerio played out the night I was with Billy Lee Riley and Bob Dylan, in Little Rock, in 1992.
Many magical moments unfolded in front of me that night, but the best and most historical picture of the night came as Dylan invited Billy Lee onstage. Billy smiled and basked in the moment while he played to a happy crowd. Dylan stood behind him, backing him up, smiling ear to ear, living out a moment that he had dreamed of since he was a young boy. He was on stage with one of his earliest influences, Rockabilly pioneer, Billy Lee Riley.
~~~~~~For more on Bob Dylan and his recent comment on the impact of Sun Records, Memphis Music, Billy Lee Riley and Sam Phillips read this article by Bob Mehr who calls Billy Lee a "Sun Records overlooked giant"
http://www.commercialappeal.com/go-memphis/music/news/bob-mehrs-memphis-music-beat-bob-dylan-on-billy-lee-riley_86925855
~~~~~~~HERE IS MORE FROM BOB DYLAN IN HIS OWN WORDS:
"I'm proud to be here tonight for MusiCares. I think a lot of this organization. They've helped many people. Many musicians who have contributed a lot to our culture. I'd like to personally thank them for what they did for a friend of mine, Billy Lee Riley. A friend of mine who they helped for six years when he was down and couldn't work. Billy was a son of rock 'n' roll, obviously.
He was a true original. He did it all: He played, he sang, he wrote. He would have been a bigger star but Jerry Lee came along. And you know what happens when someone like that comes along. You just don't stand a chance.
So Billy became what is known in the industry -- a condescending term, by the way -- as a one-hit wonder. But sometimes, just sometimes, once in a while, a one-hit wonder can make a more powerful impact than a recording star who's got 20 or 30 hits behind him. And Billy's hit song was called "Red Hot," and it was red hot. It could blast you out of your skull and make you feel happy about it. Change your life.
He did it with style and grace. You won't find him in the Rock and Roll Hall of Fame. He's not there. Metallica is. Abba is. Mamas and the Papas -- I know they're in there. Jefferson Airplane, Alice Cooper, Steely Dan -- I've got nothing against them. Soft rock, hard rock, psychedelic pop. I got nothing against any of that stuff, but after all, it is called the Rock and Roll Hall of Fame. Billy Lee Riley is not there. Yet.
I'd see him a couple times a year and we'd always spent time together and he was on a rockabilly festival nostalgia circuit, and we'd cross paths now and again. We'd always spend time together. He was a hero of mine. I'd heard "Red Hot."
YOU CAN FIND THE WHOLE THING HERE ON THIS LINK
http://www.latimes.com/entertainment/music/posts/la-et-ms-grammys-2015-transcript-of-bob-dylans-musicares-person-of-year-speech-20150207-story.html#page=5